Ashkan Yavari, an international student currently living in Brampton, is interviewed by Nur Elmsari.
Image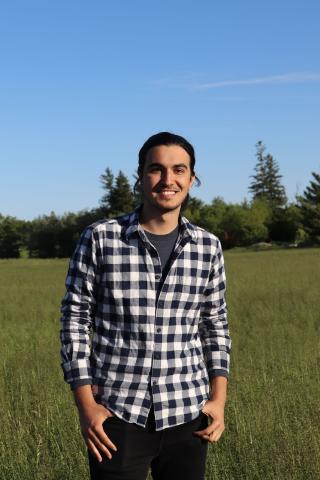 Interview
Can you share your name and share a little bit about yourself?
Hi, my name is Ashkan Yavari. I'm an international student, and I currently live in Brampton. I'm currently studying Business accounting at Humber College and will be graduating in December. I'm quite excited about it because I will be able to focus on gaining experience in my industry.
Where did you grow up, and what was that experience like? 
I grew up in one of the most populous cities in Iran, Tehran, where I lived for almost 17 years of my life. I would say the experience had its ups and downs. The people in Tehran are very close to one another; they visit each other frequently and spend lots of time with their friends and families. Because of this culture, my large family gathered together quite frequently, so I have also been around large social spaces. Although I had good experiences, there were a lot of problems that I experienced alongside my peers. 
In my city, people were suffering (and still are suffering) from oppression and poverty. In the schools, opinions and beliefs were enforced upon us, and we were not given opportunities to search for truth.
What was the story behind your decision to migrate?
It all happened pretty fast: in a span of about six months, my aunt (who lives in Canada) called my family and recommended that I look into becoming an international student and studying in Canada. After doing some research and having a few back-and-forth conversations, we realized it was actually doable. We contacted an immigration lawyer, and in a span of six months, I moved out. 
Although this was relatively quick, I knew that I needed to move out immediately because there were little to no opportunities for growth in careers if I continued to live in Iran.
What were your expectations for life in Canada? 
I expected a few things for life in Canada. I expected that I would live on my own, that the educational system would be different than in Iran, and that life in Canada would be much colder than I had initially expected. 
Why did you choose this country and community? Did anyone come ahead of you?
I've wanted to move out of Iran since I was in middle school, so when I saw that there was a real opportunity for me to move out, I took all the steps that I needed to. I chose this community, though, because my aunt lives close by, so I am still able to rely on some family here.
What was the most difficult part about leaving?
There were two pretty difficult things for me about leaving my home. The most difficult part was knowing that I would not be able to see my immediate family for a long time. The second most difficult part about leaving was knowing that I would need to relearn how to make friends in a completely different culture and environment. Growing up, I kept a small friend group, so coming to Canada tested me into making an effort to make friends. 
What was your journey to this new country/community like?
When I first moved to Canada, I was living in Mississauga, and I happened to come across a community gathering organized by the Baha'i community. When I went to join the group, I saw they were very friendly and welcoming, so I stayed with them and eventually got invited to more activities. A few of the people I met were from Brampton, so I went to see what community-building activities they were doing. After a few months of building friendships with these people, I was able to move to that community and serve alongside these friends.
What was it like when you first arrived?
When I first arrived in Canada, it was a very shocking experience. I remember the first day that I attended high school, I was really amazed by the amount of diversity in one school. There were so many people under one roof from [various race, cultural and religious groups]. It was shocking because in Iran, there are lots of people from different cultures, but they all live in different cities and go to different schools.
What most surprised you?
One thing that surprised me the most was how lots of students go through similar challenges to those back home. The media portrays this perfect image of life here in Canada, where everything is provided for you and life is perfect. I started to notice that was not the case at all.
What did you miss most about where you came from?
The first two months of living in Canada were definitely the hardest for me. I had to learn to cook on my own, take care of myself, and not rely on others for everything. I definitely miss all the help I used to get from my family and the cooking that I wouldn't have to do.
As time has passed, how does your experience compare to what you expected?
My experience has been good so far. Because I had acknowledged that it would be hard to move to another country and I received some advice from people who had previously immigrated, I was kind of prepared for the struggles, although I do think it was harder than I expected. I'm really glad that at least I had an understanding beforehand that it'll be difficult because if I didn't know, then I think it would be significantly harder.
If someone you knew was planning on coming to this country/community, what would you tell them to expect?
They for sure have to be ready for some struggle and learn beforehand how to cook and clean after themselves. They should learn how to manage their finances and learn how to budget for things. 
What do you wish more people knew about immigrants, migrants, or others new to the community?
Sometimes, it is hard for immigrants to interact in this society because they don't have the same upbringing as the people who grew up here. I think one thing people should know is that immigrants are trying their best to become familiar with the culture change, but it takes a lot of time since they have to relearn many of the social cues. I wish people were able to understand this and be patient with us.
What are the two or three most important things people could do to make the process of coming to a new country/community better?
To make the process of coming to a new country better, I would suggest that Canada provide international students or newcomers with affordable healthcare plans because it has been a huge struggle for me and many of my friends. 
I would also appreciate seeing more facilities or community centres for immigrants and newcomers in order to get to know people and interact with others so as not to become lonely. I think to make the process of moving better, and these facilities can also assist newcomers in finding jobs in their field. 
Is there anything you would like to add that has not been asked? 
I would just like to share that this process of getting a permanent residency is very tedious. I think immigrants and newcomers like myself should have a lot more support when it comes to getting our PR or citizenship.